Contact Lenses at Connecticut Eye Physicians & Surgeons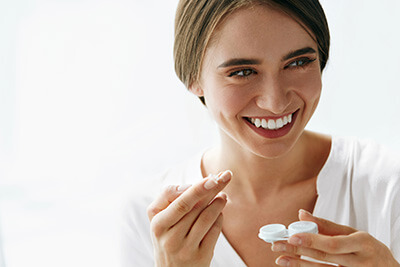 Connecticut Eye Physicians & Surgeons offers a full range of contact lens services, including evaluation, fitting and supply of lenses. Our goal is to provide an affordable effective and comfortable alternative to glasses.
Our goal is to match the current price you are paying.
There are many types of contacts, including daily disposable, frequent replacement, toric (astigmatism), and multifocal lenses. Other more specialized lenses include rigid gas permeable and prosthetic lenses. Cosmetic tinted lenses may also be available in your prescription. Your doctor will help determine the right contact lens for you.
Please feel free to call us with any questions at (860) 644-5011.
Can I re-order contact lenses online?
If you have an up to date Contact Lens prescription – one year – you can re-order your contact lenses through our website.  However, if your prescription is out of date, you must get a contact lenses fitting. Call us at 860 644-5011.
Buying Lenses and Getting Fitted: Two Different Things
In the United States, contact lenses are a prescription item, just like medicines. Even if you already have an eyeglass prescription, you will need a contact lens prescription that contains additional information. By law, you have the right to obtain your contact lens prescription, but a contact lens fitting is required to correctly prescribe contacts. It cannot be written from a glasses prescription.
Years ago, replacement contact lenses were available only from eye doctors. Now, the lenses themselves can be purchased from a variety of vendors, but the need for eye exams and contact lens fittings by the eye doctor is as important as ever.
A contact lens is a medical device. If it's not properly prescribed, you may not see well. More importantly, a poorly fitting lens — or one made from a material not well-suited to your eyes — could result in discomfort, inflammation, swelling, abrasion, or another problem that could, in rare cases, result in permanent eye damage or vision loss.
That, and the risk of infection, are also why it's unwise to share contact lenses with other wearers.
We offer:
Comparable prices to online sources for brand name contacts lenses. Call us to meet your price.
Accurate evaluations, exams and fittings by medical professionals
Free shipping on annual supplies