Eye Infections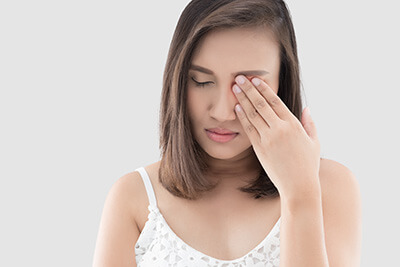 Eye medical doctors (MDs) treat viral, bacterial, fungal and parasitic infections of the eye and potentially serious complications of allergies and infections, especially conjunctivitis, or pinkeye.
Conjunctivitis can be caused by an allergic reaction and turn into a chronic problem.
Uveitis is an inflammation of the uvea – which is composed of the iris (colored portion of the eye that surrounds the pupil), the ciliary body (muscle behind the iris that helps change the shape of the lens to focus light on the retina), and the choroid layer (lining of the eye that contains blood vessels). Uveitis causes eye pain, sensitivity to light, blurred vision and spots in the field of vision. Untreated, the condition can cause permanent vision loss or complications such as glaucoma, cataracts, and retinal detachment.
Another potentially blinding eye infection, AIDS-related cytomegalovirus retinitis (CMV retinitis), is caused by an impaired immune system that makes the eye vulnerable to a variety of eye infections. CMV retinitis is a viral infection of the light-sensitive part of the eye. Before treatment was developed, CMV invariably caused blindness by destroying the retina.
Diagnosis:
A skilled physician is critical to diagnosing uveitis. Although the cause of this condition is often unknown, in some cases, uveitis may result from an autoimmune reaction (where the immune system attacks the body) or from infections by microorganisms. CT Eye Physicians & Surgeon ophthalmologists also have extensive experience in diagnosing CMV retinitis and monitoring response to therapy.
Treatment:
Pinkeye, an inflammation of the mucous membrane lining the inner surface of the eyelids and the whites of the eyes, is treated with antibiotics, steroids or, occasionally special contact lenses or surgery. Uveitis is treated with anti-inflammatory eye drops or systemic immuno-suppressant drugs.